We have prepared a short plan for an afternoon that will take you through some of Segovia's hidden gems, for when you are in the mood to explore and discover new cool spots around IEU's campus.
Segovia has attractions for all kinds of people, from the magnificent Aqueduct to the Titirimundi puppet festival, passing through stunning cliffs and crooked, cozy streets in the Jewish neighborhood. However, many of these spots and activities often end up on the sidelines of the more famous attractions.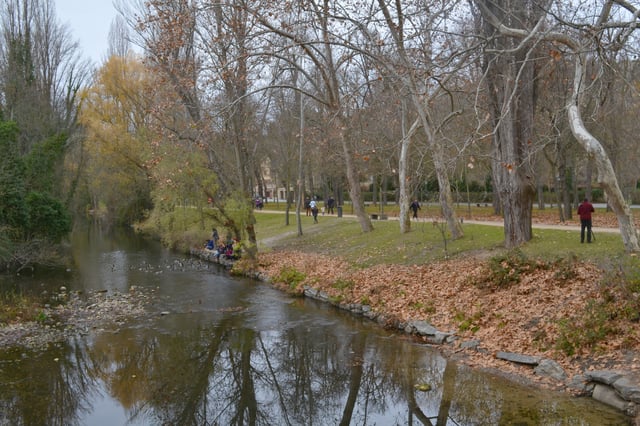 Paseo de la Alameda del Parral, down by the river and next to IE University's campus, is a popular destination for students and Segovians to exercise and spend some time in nature.
We have prepared a short plan for an afternoon that will take you through some of Segovia's hidden gems, for when you are in the mood to explore and discover new cool spots around IEU's campus.
This is our proposed itinerary:
Link (to open in Google Maps)
Duration: 2-4 hours (1 hour of walking time)
Price: Free – Up to 10€
What to bring: flashlight (you'll see later), some snacks and good vibes!
Step 1: Off to a good start

Bridge over the Eresma river, walking down toward the valley from IEU's campus.
As you leave the campus to cross the river, you will reach the Alameda del Parral, a large open area where you can go running, play sports with friends and classmates, or escape from city life to immerse yourself in the beautiful Eresma Valley around the city walls of Segovia. Once here, follow the river to continue with the itinerary.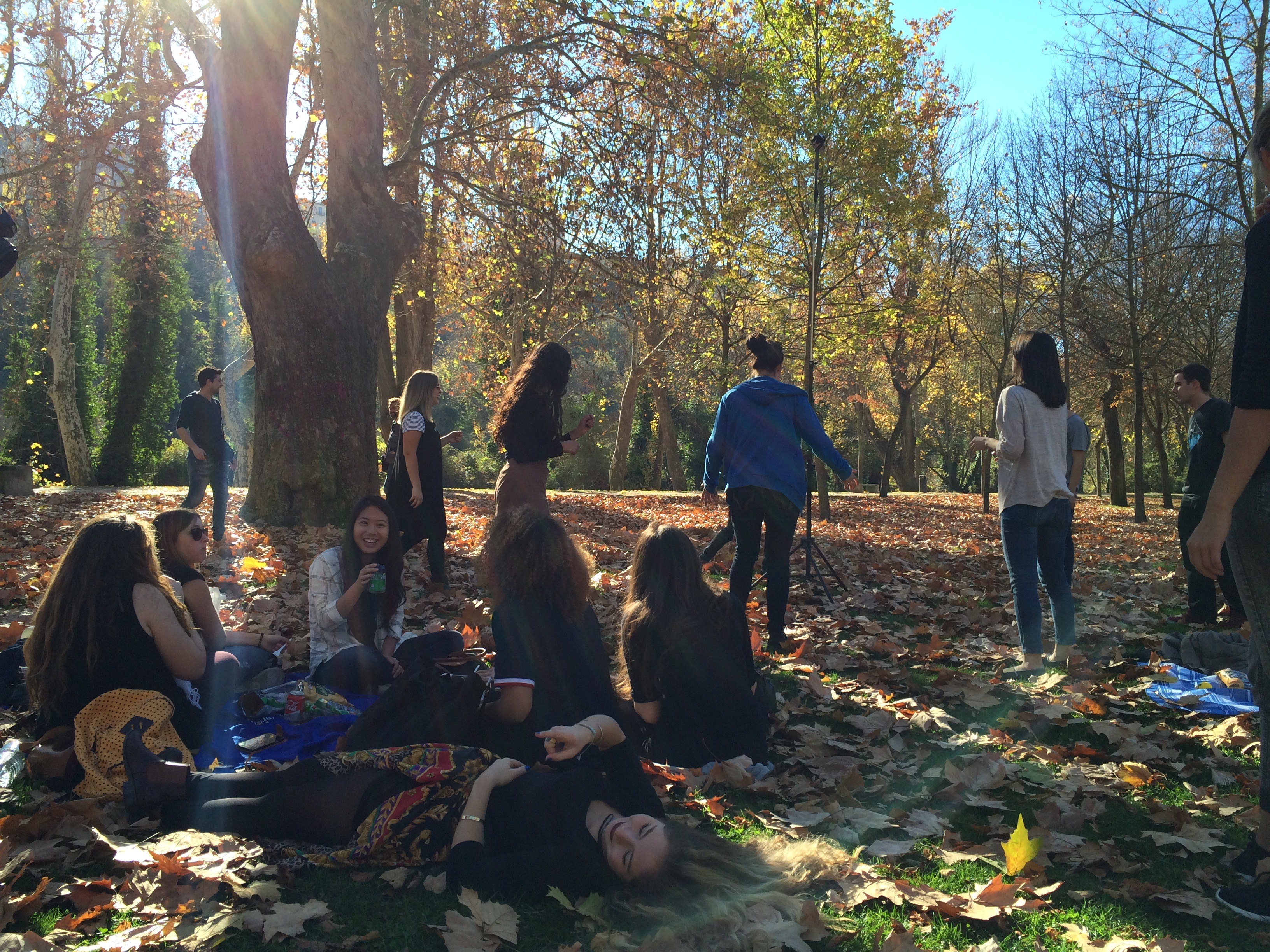 IEU students enjoy a picnic at La Alameda
Step 2: Casa de la Moneda
Casa de la Moneda and its dam, built in 1580 to fuel the production of coins for the Spanish Kingdom.
Did you know that the Casa de la Moneda is part of the IEU campus? Here, IE and the Segovian City Hall host several exhibitions as well as the summer IE Labs. In addition, it houses a museum on the medieval and modern Spanish industry. And the best part? It's free for IE students! Be sure to give yourselves at least an hour or so to see the museum and the dam.
Step 3: Hidden Corners
In this area, you can explore many little oddities and features of the ever-evolving Segovia. There is a peacock sanctuary (top-right corner), a small garden called Romeral de San Marcos (3€ and open during regular working hours), an assortment of caves and ridges all around the Alcázar hill (bottom-right corner), and you can enjoy the bends and curves that the river has naturally carved as it flows out of the valley (bottom-left corner). You'll also find a large green plain with stunning views of the Alcázar (top-left corner).
Step 4: For the Daring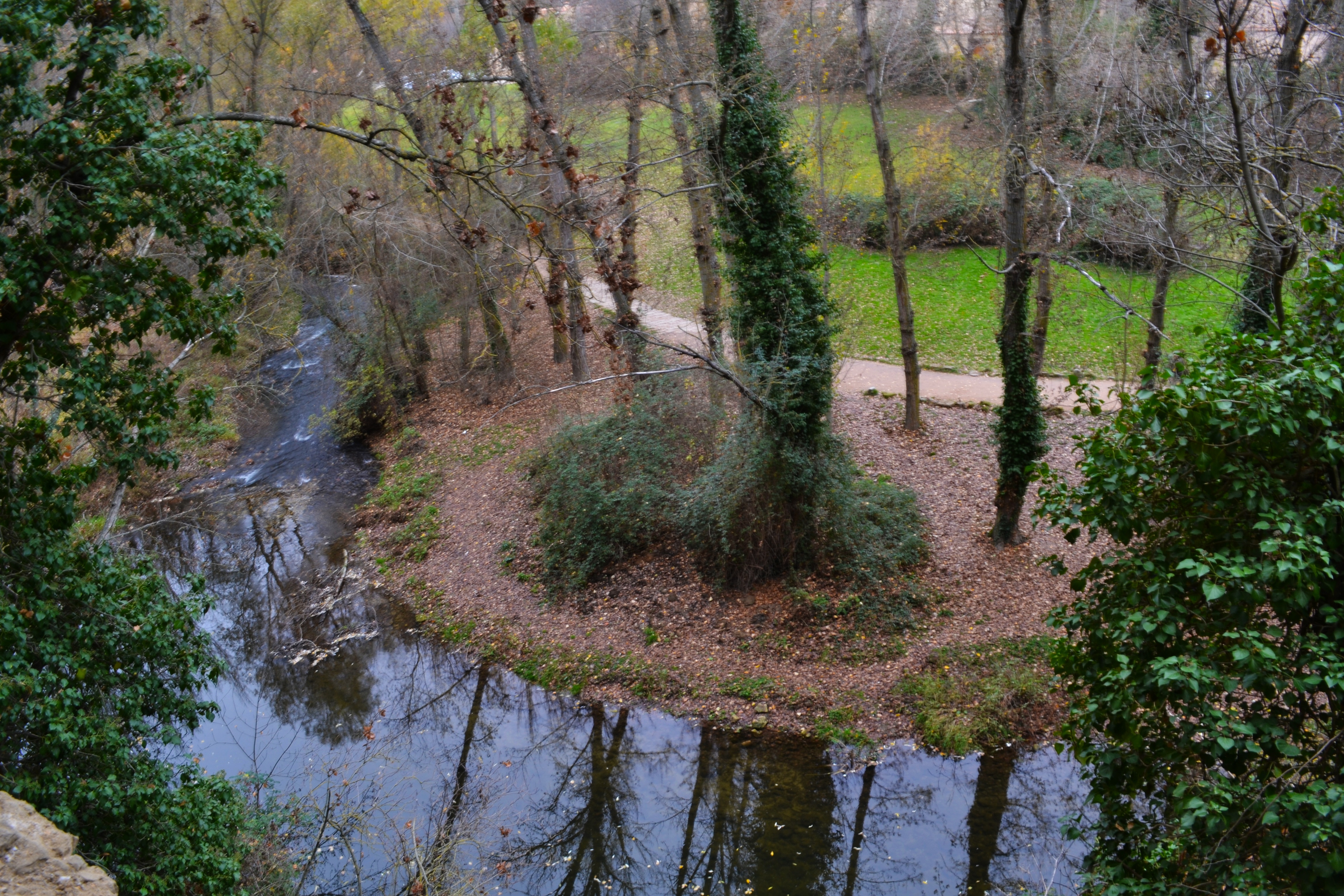 View from the exit of the cave under the Alcázar, overlooking the Eresma river
Aside from the more "traditional" attractions in Segovia, the city is also host to lots of little (and some pretty large!) caves within the rocky hills in and around the city. One such cave is under the Alcázar. It is a fun place to explore and an alternative to the more popular plans. We'll leave it to you to find the entrance!
Step 5: Relaxing at La Hontanilla
After going around the Alcázar, you will reach a string of grassy areas where you can stop and catch your breath before venturing up the city hill. Take out your snacks and enjoy a pleasant break (especially if the sun is out!)
It could also be fun to check out the extensive urban farms that have been set up around this area, where residents grow and harvest organic foods for personal consumption and commercial use by some restaurants in the city.
Step 6:  Walking back
For the last batch of hidden corners of the city, we suggest this itinerary for the way back because it passes by some lesser-known places. In this itinerary you can check out the Alcázar and its front yard, which houses a museum on medieval war machines (more info on prices at www.alcazardesegovia.com). You'll also pass by the Jardín de los Poetas, one of the many small gardens within the city walls.
Jardín de los Poetas
We hope that this plan can show you a little bit more of our beloved city of Segovia, and that it inspires you to find new and exciting things to do around the city. Get out and explore Segovia. You won't be disappointed!
Do you have any ideas to add to this plan or any other fun ideas that you would like to see featured? Tell us in the comments below and share your ideas and experiences with the rest of the IEU community!
Photo credits go to IEU CommsLab, a branch of the IEU Labs program, which brings together student talent with real-world companies and provides hands-on internship experiences on campus.
Discover more about the IE University Campus in Segovia in our brochure!